Ask The Commish - FAQ
Posted 8/18 by Bill Davies and Bill Desimone, Exclusive to Footballguys.com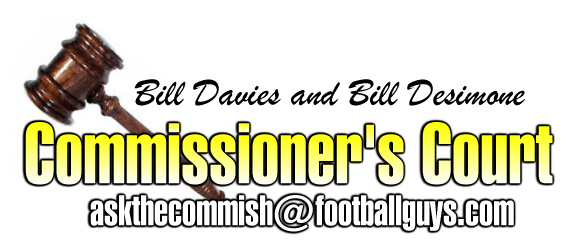 FREQUENTLY ASKED QUESTIONS AND MATTERS OF CONTROVERSY
By Bill Davies and Bill DeSimone
All rise! Court is now in session. Presiding over the 2004 Footballguys.com Commissioner's Court will be the dishonorable Chief Injustice Bill "The Commissioner" Davies and Associate Injustice Bill "DeCommish" DeSimone.
Every year thousands of leagues run into rules issues. Almost 90% of the questions we received last year fall into one of the categories listed here. These should be used as a general guide for resolving disputes. If, after reviewing these topics, you still have questions, feel free to contact the official arbiters of all matters fantasy football - Bill "The Commissioner" Davies and Bill "DeCommish" DeSimone. You can e-mail the Bills at [email protected]. For best results, please submit your issue in the following format.

Now, on to the most common issues facing leagues and suggestions on how to solve them.
THERE HAS BEEN A TRADE IN OUR LEAGUE AND SOME FOLKS THINK IT IS TOO UNFAIR. SHOULD I VETO THE TRADE?
Vetoing a trade should be the absolute last resort for any commissioner of any league. It can suck the life out of a league quickly - for both the participating owners and others who think the trade should not have been vetoed - and can turn a fun league into one of name calling and other unhealthy behaviors. If a Commissioner decides to take this step, he must ensure maximum visibility into the trade evaluation process. Ideally, this would be done by establishing clear, objective standards. In this way, any owner whose trade that is challenged and/or vetoed will feel as though reasonable consideration was given and will understand why the decision was reached. Whenever possible, you should include this process in your rules so all owners are clear on the set of criteria you will be using to evaluate their trade.
Although most rules address the potential of unfair trading to a degree, they usually use vague terms like "collusion" or "unfair trades will be reversed." Rules also typically give the Commissioner, a rules committee or the league the right to act if a complaint is lodged. However, the rules generally call for a vote without discussion as to due process or which points ought to be evaluated. We raise this point because the answer to almost every question ought to be "What do your rules say?" This area seems to be the least complete in terms of rules. In part, it is because it is tough to define. But it is also deeper than that. The actions of the league or its Commissioner in a time like this will set the tone going forward.
There are too many factors to go in depth, here. For a complete discussion, please go here. Here are some general guidelines you can use to help you make your decision:
USE CONTRACT LAW AS A BASIS: At their core, trades are based on a principle of contract law - consideration is traded for consideration. There is no inherent need for that consideration to have equal value to both parties, only "enough" value for both parties to enter into the trade.



WHAT WOULD BE THE EFFECT OF A VETOED TRADE: This is probably the most important question. Would it tear apart friendships? Would it make the upcoming draft tense because the trade involved the first overall pick? As we've said, vetoing trades is a very serious move that has serious ramifications. All of those ramifications should be considered before a final decision is made.



WHAT ARE THE TEAMS' NEEDS? A trade often helps both teams fill a need. Based on need and surplus, the trade may not seem fair on the surface. However, if both teams got what they needed and improved their starting lineups, it would be very difficult to veto such a trade.



WHAT ARE THE TEAMS' RECORDS: This can be an indicator that there is a hint of collusion. When a 1-7 team trades Daunte Culpepper to a 6-2 team for Jason Witten, there's a hint that there may be collusion. You can address some of this in writing, like setting a trade deadline a few weeks before the end of the regular season or exclude any team from trading once they are mathematically eliminated from the playoffs (except in keeper leagues where eliminated teams may trade with next year in mind).



IS YOURS A KEEPER LEAGUE?: If it is, and a younger player with a lesser reputation is traded for an older player with a great reputation, it is harder to call the trade unfair. The motivations of each owner may be too great.



WHAT ARE THE TEAMS' RELATIONSHIPS WITH ONE ANOTHER: Does one team have a reputation as being the other's farm team? Is one owner the 8 year old son of the benefactor of a lopsided trade?



IS ONE OWNER SIMPLY NOT GETTING ENOUGH OUT OF THE TRADE: A common complaint is "I would have given him so much more…" Well, the simply fact of the matter is that you didn't. Just because one owner could have received more in a trade from another owner does not make it unfair. Each owner has (or should have) equal opportunity to trade with any other owner.



Don't forget that because both parties are getting something in each trade, usually both parties feel they got the better end of the deal. It's how and why trades happen. That's why it is a lot of work to veto trades and it should be. It should keep at least one owner up nights if the issue comes up. It takes more than one trade to win a Fantasy Bowl title. But it can take one poor use of a veto to ruin what would otherwise be a good league.
Finally, if as Commissioner you are convinced a trade is unfair, before you veto it, contact the owners and give them to opportunity to rescind the deal and rework it themselves. It is a classy move and let's everyone save face and emerge with dignity, while helping to ensure the long-term sanctity of the league.

IS A SCORE ON A FAKE KICK OR PUNT A SPECIAL TEAMS PLAY?
Unless your rules specify special teams points for fake kicks, we'd rule that it is not a special teams play. While many leagues use the term "Special Teams", the intention is usually "punt and kickoff returns" and thus only points related to those plays should count for Special Teams unless otherwise specifically noted in the rules.
It is noteworthy that the formation for both field goal attempts and punts resembles the shotgun. The offensive team knows what they intend to do and no matter how unconventional their lineup is, they know it to be an offensive play. This is one reason why backup quarterbacks often are holders and why Danny White was QB/P for the Cowboys. So if you play with team QB and there is a touchdown pass on a fake kick, your team ought to get credit for the TD pass. (NOTE: It is noteworthy that it cannot be a special teams play until the ball is kicked and crosses the line of scrimmage, per details in the next item.)
IS A BLOCKED KICK RETURNED FOR A TOUCHDOWN CREDITED TO THE TEAM DEFENSE OR SPECIAL TEAMS?
Something special happens when a kicked ball goes over the line of scrimmage. According to NFL rules, there is a change in possession. That is very important because it helps answer this question. A blocked kick is a kicked blocked by the defense, not special teams. A kick that crosses the line of scrimmage and is then returned for a touchdown is a special teams TD.
IF A PLAYER THAT USUALLY PLAYS ON DEFENSE SCORES AS AN OFFENSIVE PLAYER, SHOULD THE POINTS ALSO COUNT FOR THE TEAM DEFENSE?
This is one important argument in favor of a league going to the Individual Defensive Player (IDP) format. Like all questions, the answer lies in your rules. You can write your rules any way you'd like. However, if you are playing with a team defense, it is unlikely that your rules specify points for rushing or receiving TDs for defensive players lining up in an offensive formation. Assuming they do not, you should not include plays such as these for a team defense. First, the defensive unit was not on the field at the time. This addresses the intent of the rule. Second, you risk going down an unintended slippery slope if you allow this. For example, let's say it is 4th down with 0:03 left on the clock and the Vikings send five WRs on the field. The Lions put Charles Rogers and Roy Williams on the field as part of the "Good Hands Team." Should they get the points or should the team defense if they make an interception? If they return the interception for a TD, who should get the points? The team defense should since they became part of that unit for that particular play. But since they played on defense, should their offensive scoring production count for the Lion's defense? Of course not. The bottom line is that if Warren Sapp scores on a TD reception, the Oakland defense should not be credited with a TD reception, but if you use IDP, then Sapp can get points for the reception and the TD if the rules permit him.
IF A QUARTERBACK PASSES THE BALL, THE RECEIVER CATCHES IT AND THEN LATERALS TO ANOTHER PLAYER WHO SCORES, HOW IS THE PLAY SCORED?
Examples of this are the Culpepper-to-Moss-to-Williams hook-and-ladder and the Saints 3-lateral play to end a game against the Jaguars late in the season. In all cases, if a quarterback passes the ball and the receiver laterals it, the quarterback gets credit for the completed pass and the total yardage as passing yardage until the play is stopped. The player receiving the pass from the quarterback receives credit for a reception and all yardage from the line of scrimmage to where the lateral occurred. Any player receiving a lateral receives credit for receiving yards from the point where the lateral occurred until their possession stops through another lateral, being tackled or fumbling. The player receiving the lateral does not receive credit for a reception. (Yes, it is possible that a player could gain receiving yards with no reception. It's happened where the box score shows 0 receptions for 17 yards.) If the result of a passing play involving laterals is a touchdown, the quarterback receives credit for a TD pass for the entire length of the play, regardless of the length of the actual pass or the number of times a lateral is executed on the play. The rules are the same regarding a lateral on a running play. The first player rushing the ball receives credit for the rush. The player receiving the lateral receives credit for the rushing yards, but not the carry.
IS AN OFFENSIVE FUMBLE RECOVERY FOR A TD A RUSHING TD, A DEFENSIVE TD OR A RECEIVING TD?
This happened a few times in 2003 - most notably with Alan Ricard of the Ravens, Koren Robinson of the Seahawks and Randy McMichael of the Dolphins. A fumble recovery for a TD is just that - a fumble recovery for a TD. Unless your rules specify credit for a fumble recovery for a TD by an offensive player, or have a catchall definition (preferred) of all TDs, you cannot give credit for the fumble recovery for a TD. It is a misnomer to call it a defensive TD because the defensive squad never gained possession of the ball. You cannot call it a rushing or receiving TD, because that would imply a controlled lateral which this clearly is not. Some scoring rules specify that all fumble recoveries for a TD are credited to the defensive team. As long as that is how your rules are stated, and hopefully everyone understands the risk, then giving the defense credit is an acceptable thing to do. The best way to eliminate issues relate to categorization is to change your rules to simply state ANY and ALL TDs.
IF THE OFFENSE LOSES POSSESSION, THEN THE DEFENSE THAT GAINED POSSESSION SUBSEQUENTLY LOSES POSSESSION BACK TO THE OFFENSE AND THE OFFENSE SCORES, WHO SHOULD GET THE FANTASY POINTS?
This is born out of the infamous Keenan McCardell Monday Night Football fumble recovery touchdown. We have a full discussion of that play at here, but here are the general principles.
An offensive team is an offensive team and a defensive team is a defensive team. A change in possession does not change that or by definition, we could never have defensive touchdowns. As soon as the defensive team came into possession of the ball, they would become the offensive team. To think that designation changes at the time of a change of possession simply defies logic the way we play the game.
Even if the change of possession changed offensive and defensive teams…this still would be an offensive TD. The team that started the play on offense had the ball intercepted. At the time of the interception, they went on defense. The player that intercepted the ball subsequently fumbled it and the team that started the play on offense recovered the fumble. With this second turnover, the team that started the play on offense regained their status as the offensive team.
This play really wasn't as complicated as everyone made it out to be. It had a lot of scoring ramifications, but none were terribly complicated if you drilled down deep enough. The core of the matter is whether or not offensive and defensive designations change at the time of a change in possession. But in this case, even that doesn't matter because there were two changes in possession. If they do not change, the team never lost their designation as the offensive team. If they do change, the team lost its designation as the offensive team, but regained it when they regained possession of the second turnover.
In this case, the player that scored the TD should get credit for the TD only if fumble recoveries for TDs or a catchall like ALL TDs is used. The QB that threw the interception should get credit for the interception. The DB that intercepted the ball should get credit for the interception AND the fumble. The player that recovered the fumble should also get credit for a fumble recovery, if that player is eligible to receive such points. If a league interprets the change of possession to mean a change in designation, then the team defense of the team that started the play on offense theoretically should receive credit for a fumble recovery. But not credit for the TD because the act of the fumble recovery changes their designation back to offensive team.
A PLAYER RETIRES OR IS SUSPENDED FOR DRUG USE OR SOME OTHER REASON. CAN HE GO ON THE INJURED RESERVE?
No. The injured reserve should be just that - a reserve list for players on the NFL's injured reserve (meaning they are out for the remainder of the season.) Some larger and more sophisticated leagues have gone to the point of creating a Retired-Reserve list and a Physically-Unable-to-Perform list with the designations matching the NFL. In order for that to make sense, your league would probably need to be a keeper league AND a salary cap league. Otherwise, you simply draft, bid upon or keep the players with the knowledge that they have these looming issues.
CAN A HEALTHY PLAYER BE STASHED ON OR LEAGUE'S INJURED RESERVE?
This has become one of the most abused rules in fantasy football. Many leagues state that if a player is listed on the injury report with some sort of designation (usually Doubtful or Out), they are eligible to go on the injured reserve for the week. The NFL saw this trend in its league a few years ago and did away with the four week IR for the same reasons you should abandon this practice. First, breaking news as it happens. The Commissioner has learned that NFL coaches lie about injuries. Wow. That's quite a revelation. (Yawn!) Second, the injury report is a fluid list. The Wednesday report is different than the Friday report which is different than the Saturday report which is different than the Sunday morning report. What happens if a guy goes from Doubtful or Out to Probable between Wednesday and Sunday? Is he still eligible? Our advice is this. If you feel you need the protection of an injury list, set a deadline and live with it. If it is the Wednesday report you go with, then someone showing up on the report for the first time on Friday is not eligible. If they are placed on your injury list based on this information and you find out later they are healthy enough to play, too bad. You've placed them on your IR.
The other side of this nasty coin is when to take players off. Some league rules state that when a player no longer appears on the injury list, they must be activated. That can become problematic because NFL teams oftentimes neglect to report players on the Injured Reserve of Physically-Unable-to-Perform lists because by rule they are ineligible to participate anyway. But if you have evidence a player is playing and is no longer listed on the injury list, he ought to be activated at the league's earliest convenience and the player's owner should have less than 24 hours to cut a player to comply with league roster limits. Failure to cut a player in a reasonable amount of time should result in the player that was activated from the injury list to be cut.
We believe the solution is to expand your roster a spot or two and eliminate your injured lists. This takes away all of the ambiguity.
OUR LEAGUE WEBSITE SHOWS ONE SET OF STATS FOR A PLAYER, BUT THE NEWSPAPER (OR WWW.NFL.COM) SHOWS ANOTHER. WHICH ONE IS RIGHT AND WHICH SHOULD WE USE?
Many leagues designate an official scoring source. Some even designate a source outside of their league management software. In some ways this is smart. It allows an appeal process in the event that your website makes an error it chooses not to correct. Your rules would then allow you to correct your site's error a) if you catch it and b) if you choose to make a change. The most commonly-cited independent source for stats is www.NFL.com. Although this site is an invaluable resource for fantasy footballers, it too has errors. For example, sometimes an individual's statistics are changed to reflect a correction but the game statistics are not changed to reflect such an adjustment. As a result, their numbers don't tie to themselves. (As a former accountant, this infuriates me!) Another tool that www.NFL.com provides is a play-by-play narrative of each game. Reviewing this can be a great resource. Its not fail-safe, but it is very good. With the advent of the Sunday ticket and TiVo, owners will continue to become more sophisticated in making their case - breaking down film and sending an e-mail of a video clip of the play with frame-by-frame when it counts. We are of the opinion that as long as the owners make their case in an appropriate manner, all evidence should be considered. Our only advice is that you resolve the matter prior to kickoff of the first game of the next week - especially at or near playoff time. Give your owners a window of time to plead their case and try to be done with it by Friday. The safest way to address the matter is to anchor to one source and live or die with their ruling. It may result in a bad ruling once or twice a year, but it sure saves the league office a huge headache. If the bad rulings happen too often - change your management software for the next year!!!
SHOULD OUR KEEPER LEAGUE DRAFT USING THE SERPENTINE OR STRAIGHT METHOD?
There is no right or wrong answer to this, except to say that the more keepers your league allows, the more likely it is that the straight drafting method (same order every round) would be better for the competitive balance of your league. If you are only keeping one or two players, then a serpentine (even rounds are in reverse order of odd rounds) draft is likely best.
The best solution, in our opinions, is to go with one round of straight drafting for every keeper your league allows. For example, if your roster size is 16 and you allow 4 keepers, your first 4 rounds will be a straight draft with the team finishing in last place drafting first each of those rounds, the team that finished in first place drafts last in each round and everyone falls in between, where they belong. Then, the remaining 8 rounds would be serpentine with round 5 starting the reverse order of rounds 1-4.
WE'D LIKE TO LET OWNERS KEEP PLAYERS BY GIVING UP A DRAFT PICK, BUT WE'D LIKE TO MAKE THAT PICK BETTER EACH SEASON. DO YOU HAVE ANY CREATIVE IDEAS HOW TO DO THAT?
We were faced with this question several times last year. Most leagues wanted to both make owners pay a healthy ransom for protecting a player AND reward owners for finding diamonds in the rough. We think we found a solution that fits everyone's needs. It requires a bit of math, but provides a comfortable solution that meets the requirements.
In order to protect a player, a team must give up a draft pick that is the square root of the round in which the player was selected. For instance, in order to protect a player selected in the 16th round, you must give up a 4th round pick (4 is the square root of 16). Since 1 is the square root of 1, you can always keep your first round pick. The number of players you may keep is dependent upon the size of your roster. Leagues with a roster size of 36, could keep 6 players, for example. Here is a chart of the required compensation for players:
| | |
| --- | --- |
| Round Drafted | Pick Forfeited to Protect |
| 1st - 2nd | 1st rounder |
| 3rd - 6th | 2nd rounder |
| 7th - 12th | 3rd rounder |
| 13th - 20th | 4th rounder |
| 21st - 30th | 5th rounder |
| 31st - 42nd | 6th rounder |
| 43rd or higher | 7th rounder |
As you can tell by the chart above, you'd only be able to keep one of your first or second round picks since you only have one first round pick to give up. If you trade away your first round pick, you may not protect a player in that spot. Keeping players would be optional. If you elect to keep no players from a particular slot, you'd retain the draft pick. Players picked up off the waiver wire would be treated as a pick in the last round of your draft. Finally, the calculation would be redone every year and the revised assigned draft pick value would stick with the player. For example, a player is drafted in 2004 with the 25th round pick. He is golden so you protect him in 2005 by giving up a 5th round pick and for purposes of that season, this player is viewed as a 5th round pick. He continues to develop so in 2006 you have to give up a second round pick. If you choose to retain this player in 2007, you'd have to give up your first round pick. Teams may not trade for extra picks for purposes of keeping more than one player in a given slot. Traded draft picks that result in multiple picks in a given round are required to be used for purposes of drafting a player, not protecting a player.
Under no circumstance would a player be able to be kept for four consecutive years without costing the team a 1st round pick to retain him. A separate category would need to be added on your team rosters - ROUND. This will assist the Commissioner in keeping track of that designation.
Although not perfect, the Square Root Solution allows teams to get a year or two of tremendous value for players they draft late or pick up mid-season. It also allows for them to retain their studs. Yet, it also ensures that the draft is populated with exceptional players each year, also. We feel it escalates compensation and restricts uncompetitive dynasties in a way that is healthy for your league.
SHOULD POINTS SCORED BY THE DEFENSE ON A TURNOVER COUNT AS POINTS AGAINST FOR THE OTHER TEAM'S DEFENSE?
Some leagues with team defense award points based on the amount of points that team's defensive gives up to it's NFL opponent. For example, if you have the Giant's defense and the Giants win 28-0, your defense may get points for recording a shutout. This question occurs when a Giants player, say Eli Manning, turns the ball over and the opponent scores a touchdown. Should those points count against the Giants' defense since it was not on the field at the time the points were scored.
This is a very good question. As a practical matter, most folks will treat them as points against the Giants' defense. Treating them otherwise would be the exception and need to be looked out for. Therefore, the default would be to treat all points scored against a team as being scored against their defense, regardless of how they were scored. If your league thinks that only points scored while the other team's defensive unit is on the field should count, then it ought to state that in the rules and look for such scoring for purposes of manually correcting it.
Finally, the question was also asked about the point after the touchdown. This is also a matter of personal taste for your league. Although the team in to defend against the extra point is clearly the defensive team, they would not have to be there if this were not an extension of a score against the team's offensive unit.
The key with subtle nuances like this is that now that you are aware of them, vote on them and do what is necessary to make your scoring match your rules. There really is no right or wrong answer. Only the will of the league matters. The more rules are clearly and completely spelled out, the less room there is for interpretation and controversy.
THE VERY FIRST AND MOST PERPLEXING QUESTION OF THEM ALL. THIS WAS THE ACTUAL FIRST QUESTION POSED TO THE ASK THE COMMISSIONER SERVICE. IT WAS SUBMITTED BY FOOTBALLGUYS PATRON PHILLIP BROOKS. "DID ADAM AND EVE HAVE BELLY BUTTONS?"